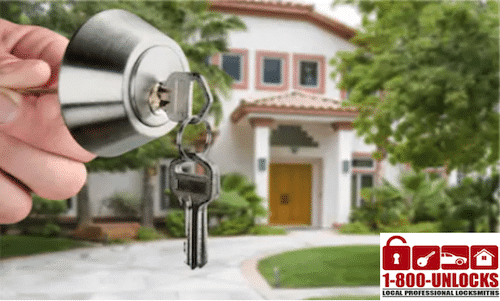 In today's modern world, homeowners like yourself have become more security conscious than ever before. Now they are equipped to stop unwanted intrusions with security devices previously unavailable, unaffordable, or simply too complex to do without the help of professional security installation experts. Now, the average homeowner can install alarm systems, doorbell cameras, video surveillance systems, special lighting, all designed to protect our homes from burglars and would-be thieves.
But, what about that age-old device found on every home's exterior doors, the keyed deadbolt lock. Is that overlooked device still as useful today as it once was? Has it changed much over the years? With the ever-growing problem of home invasions and personal property losses, can a deadbolt lock still protect your home from a break-in? Indeed it can when you follow the guidelines we describe.
What is a Deadbolt Lock?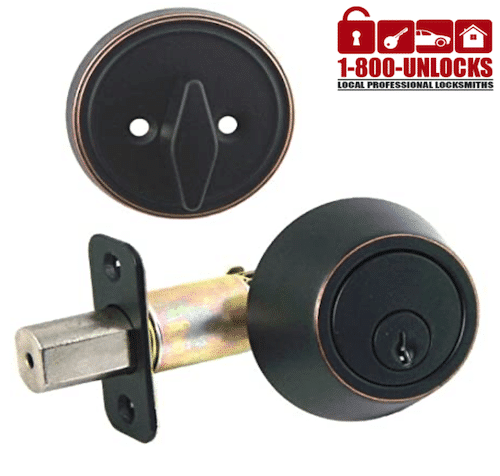 A deadbolt lock is a locking mechanism, comprised of three interlocking components. On the door's exterior side, you will see the key cylinder and its security collar. The interior side of the door has a thumb turn device with two mounting screw holes. And on the edge of the door is the locking bolt that gets inserted into the door. When assembled, these components form the deadbolt lock.
All deadbolt locks come in various configurations, styles, and color finishes. Pictured is the single-cylinder version. Deadbolts do come in a double cylinder version, meaning you can lock or unlock the device with a key on either side of the door.
A popular style of deadbolt locks getting installed on homes is the smart lock version. It has a keypad feature that allows the user to enter a code to unlock the door without the use of a key. Most lock manufacturers have a line of smart lock deadbolts to choose from if security and convenience are what you want. These locks also come in a variety of configurations and color finishes. For example, you can choose to get a smart lock that has a key-override feature or connects to Wi-Fi. Regardless of the lock you choose, you'll want to be sure that it is installed correctly and able to secure your door.
Can a Deadbolt Lock By Itself Secure a Door?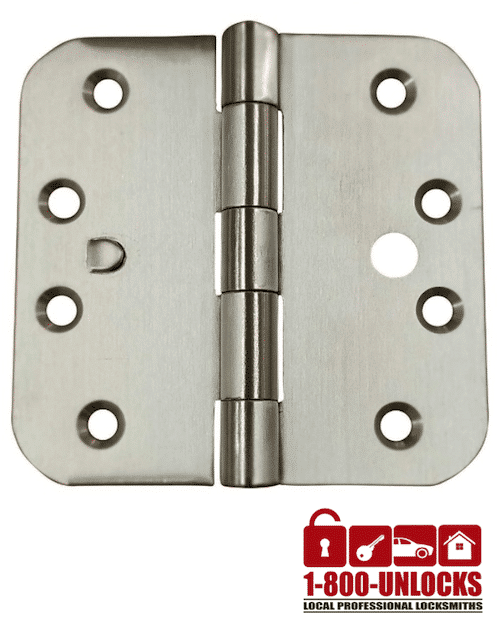 The answer to that question is no. The deadbolt is only one part of a door's complete physical security. To properly secure a doorway that prevents a forced entry requires each section of the door, along with its frame, hinges, and locking hardware meet specific strength, security, and impact guidelines. Below we have provided the basics for you to review.
The door is solid wood or metal
The door has no decorative glass or window panes
The door frame was built to withstand high impacts
The door has tamper-proof security hinges installed
The door was installed to swing out, not into the home
Your Door Should Be Solid Wood or Metal
With a solid core wooden or metal door, these materials are durable and can withstand high impacts from an attempted kick-in or crowbar attack. They also come in decorative designs. Locksmiths that provide full door locksmith servicing and installation can provide you with more details about the cost and benefits of solid residential or commercial doors and frames.
Your Door Should Have No Decorative Glass or Window Panes
Decorative glass or window panes in a door have a natural beauty. However, that design reduces a door's security and strength. When a burglar breaks the glass to gain entry, they can then reach in and access the deadbolt's thumb-turn mechanism and unlock the door.
Your Door Frame Should Be Built To Withstand High Impacts
For a sturdy door, and tough deadbolt to secure your entrance correctly, they rely on the door frame's design and installation, to withstand any high impacts. When a burglar can kick in your door, there is a high probability the door frame's structure was not appropriately designed or built to stop forced entry.
The Door Has Tamper-proof Hinges Installed
On one side of the door, the deadbolt lock is securing the door. With tamper-proof hinges installed on the opposite side of the door, a burglar cannot remove the hinge pins and lift the door out of its frame. The design of security hinges provides additional security to prevent a break-in and the theft of your personal property.
The Door Was Installed To Swing Out, Not Into The Home
When you are standing outside of your home looking at your door, does your door open into your home or swing outward? A door that swings out away from your home defeats a burglar from kicking in the door. Their leverage to over-power the door is removed.
Is Your Home Protected Against Natural Disasters?


Up until this point, we have talked about break-ins from burglars, what is a deadbolt lock, and basic door guidelines for maximum security. However, there is a more significant threat to your home in the form of natural disasters.
Over the years, building contractors, metal building manufacturers, and high impact door and window companies are designing homes and commercial properties to withstand mother nature from the hurricanes in the southeast, to the tornadoes across the plains. A significant threat to your home comes from the aftermath, in the form of looters.
Quite often, when storm victims get evacuated from their homes, it isn't until they return they discovered their home remained intact. But upon further inspection, it is determined looters were able to get through the front door with ease. Personal property such as jewelry, firearms, money, along with valuable gold and silver, was taken. Take a few minutes and inspect your doors to protect your home.
Final Thoughts On Deadbolt Locks and Residential Security
As you have just read, the deadbolt lock still plays a significant role in protecting your home from a break-in. If you have questions or concerns about your home's deadbolts and doors, you've come to the right place. Feel free to continue reading about the services that a residential locksmith can provide such as lock installation or lock rekeying. On the other hand, if you're ready to hire a locksmith, you can search by location through our directory and contact any of the verified locksmiths in your area. If it's easier for you to call, simply dial 1-800-865-6267 and you'll be routed to one of our featured partners in your town.