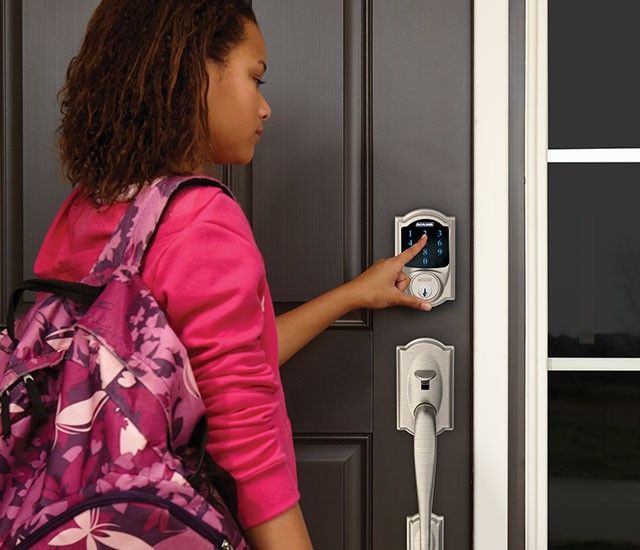 Smart locks are growing in popularity among homeowners looking for convenient, keyless access to their home. Two of the top smart lock brands on the market are Lockly and Schlage. But how do Lockly and Schlage Sense smart locks compare when it comes to features, security, and overall pros and cons? In this Lockly versus Schlage Sense face-off, we'll break down the key distinctions between these two leading smart lock models.
An Overview of Lockly Smart Lock Capabilities 
Lockly smart locks stand out for their flexibility and enhanced security capabilities. They allow homeowners to unlock doors through fingerprint scanning, a digital keypad, a smartphone app, or a voice assistant. This variety provides versatility and convenience – choose the method that suits your needs at any given moment.
In addition to multiple access options, Lockly locks also utilize advanced security features. These include real-time activity alerts, tamper detection sensors, and AES data encryption. Together these help detect and deter potential home intruders. Lockly locks also have a discreet peek-proof keypad and 3D fingerprint sensor for securely entering access codes and scanning your fingerprint.
Lockly smart locks easily integrate with top smart home platforms too. You can control Lockly through Amazon Alexa, Google Home Assistant or Apple HomeKit using convenient voice commands. Overall Lockly locks aim to provide maximum convenience without compromising security.
What the Schlage Sense Deadbolt Offers
The Schlage Sense deadbolt is a popular smart lock choice that offers flexible access control in a streamlined package. The Sense lock's main access method is through an illuminated touchscreen keypad. This modern numbered keypad allows easy unlocking with a pin code. For remote control, the Schlage Sense also connects to the Schlage Home smartphone app.
From the Schlage app, you can lock or unlock your door from anywhere and create timed temporary access codes for visitors or guests. The Sense deadbolt also supports voice assistants like Alexa and Google Home for handy voice control.
In addition, the Sense provides ample security protections including encryption, tamper alerts, and a built-in alarm. It also comes with a backup physical key in case the lock battery dies. Installation of the Sense is quick and straightforward with the included instructions and template.
Comparing Key Features and Capabilities 
Regarding unlocking methods, the Lockly clearly provides more flexibility with app, fingerprint, voice, and keypad options versus just the keypad and app combo offered by Schlage Sense. However, the Sense's illuminated touchscreen is extremely convenient for entering pin codes in the dark.
For smart home integration, Lockly has wider compatibility with Alexa, Google Assistant, and Apple HomeKit versus just Alexa and Google for the Sense. But the Schlage Sense doesn't require a separate hub for connectivity.
Both locks include security capabilities like tamper detection, alerts, and encryption. Lockly augments this with biometric fingerprint scanning while Schlage Sense relies on trusted PIN code security.
When comparing pros and cons, Lockly provides enhanced convenience, flexibility, and innovation. But Schlage Sense smart locks have the advantage when it comes to proven reliability and slightly more affordable pricing.
Choosing the Best Smart Lock for Your Needs
In conclusion, Lockly smart locks are ideal for tech-savvy homeowners who want maximum smart features and versatility. The Schlage Sense is optimal for those seeking a straightforward smart lock solution from an established brand. To determine which smart lock is the best fit for your home, consult with the security experts at 1-800-Unlocks. Our team can help assess your specific needs and preferences to pick the perfect smart lock for any home or apartment.
Call A Verified Locksmith Today
1-800-Unlocks is a peer-reviewed directory of professional locksmiths. When you call, you'll be connected with a vetted locksmith in your area.